Several residential/commercial buildings, hotels, resorts and skyscrapers have become a symbol of grandeur, post-modern architecture and financial investment. There are various buildings which have garnered major attention due to their symbolic construction, towering heights and spacious premises, but do cost a fortune. Here is a quick list:
Top 10 Expensive Buildings
1. Abraj Al Bait, Mecca, Saudi Arabia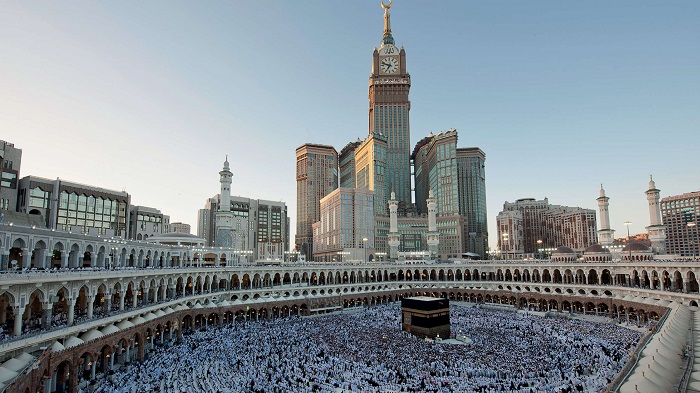 The first on the list of Top 10 Most Expensive Buildings in the World stands Abraj Al Bait, the tallest hotel in the whole world. The architectural style is post-modern and covers a floor area of 1,500,000 square metres and height of 601 metres. Almost 100,000 people can reside within this grand structure. The Makkah Royal Clock Tower is a gazing attraction and can be seen from 30km far away.
2. Marina Bay Sands, Marina Bay, Singapore
At an overall cost of USD $5.50 Billion, Marina Bay Sans takes your breath away! It has a total number of 2561 rooms, has a 38 acres land-built and most-expensive casino and offer 160,000 sq ft worth of gaming space. Feng Shui consultants approved the design and architecture of the building. Some star attractions of this place include Sands SkyPark, The Shoppes at Marina Bay Sands, Bay Floral, and Art-Science Museum etc.
3. Resorts World Sentosa, Singapore
The Resorts World Sentosa was built under the vision of Genting Group, and is a wide hub of entertainment attractions, hotels, casino, theme parks and much more. The integrated oceanarium comprises of more than 800 species to explore from. It added The Marine Life Park to its kitty and has a lot to offer. A total of USD $ 4.93 Billion had been invested during construction.
4. Emirates Palace, Abu Dhabi, UAE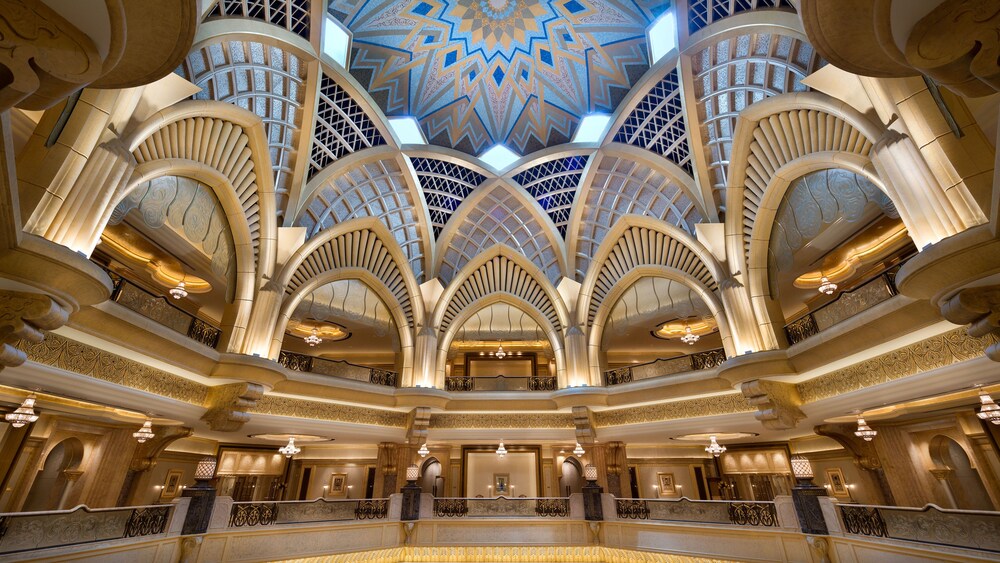 Designed by a visionary British architect John Elliot, Emirates Palace in Abu Dhabi is owned by Government of Abu Dhabi, and is a seven-star luxury hotel and resort. The space speaks of royal indulgence integrated with modern facilities. The place spreads on an area of 850,000 square metres, consists of 1002 Swarovski crystal chandeliers and 13 different kinds of marbles from China, Italy, India, and Spain
5. Cosmopolitan of Las Vegas, Las Vegas, US
Known to be one of the Most Expensive Buildings in the World, The Cosmopolitan of Las Vegas is a sight to remember. A luxurious casino awaits your interest and grand hotel calls you for a royal stay. It consists of 184 metres tall high rise towers filled with restaurants, spa centres, gaming and fitness facility, meeting spaces and theatres.
6. One World Trade Centre, New York, US
The One World Trade Centre or the 'Freedom Tower' is built in honour of the original World Trade Centre, which was brutally destroyed during the 9/11 attacks. It functions as an industrial hub, connects 11 NYC subways and offers 71 floors of office space. The main highlight is the 9/11 remembrance museum along with a retail space of 55,000 square foot. A total of USD $ 3.80 Billion was chartered to create such a magnificence.
7. Wynn Resort, Las Vegas, US
Named after Steve Wynn, a renowned Casino Developer, Wynn Resort is built on an enlarged area of 615 acres. It has been titled with several accolades such as Forbes five-star, Michelin five-star rating, Mobil five-star, and AAA five diamond. It is built on a whopping budget of USD $2.70 Billion. It is known to be the first ever Las Vegas casino featuring a car dealership.
8. Venetian Macau, Macau, China
Built on a mega-budget of USD $2.40 Billion, The Venetian Macau is a luxury casino and hotel resort and highlights the very grandeur of the city. Known as one of the Top 10 Expensive Buildings, it comprises of a casino worth 550,000 sq. feet of space, 800 gambling tables, 3,400 slot machines and a 15,000 seat Cotai Arena. The hotel bathes in royal exuberance and is the creation of Aedas and HKS, Inc., renowned architectural firms.
9. City of Dreams, Macau, China
A perfect collaboration of hotel with casino, City of Dreams was built on a budget of USD $2.40 Billion. It is designed as a podium with four towers named Crown Tower Hotel, Hard Rock Hotel, and Grand Hyatt Macau (2 towers). There are 3 floors, 1400 rooms, 200 shopping facilities and a 420,000-square foot American styled casino. There is a fifth tower under construction and due for 2017.
10. Princess Tower, Dubai, UAE
This 414-metre-high tower in Dubai was titled as the tallest "residential skyscraper" in the world from 2012-2015 by Guinness World Records. Princess Tower is constructed by Adnan Saffarini and comprises a total of 107 floors with mega duplexes, apartments, penthouses, underground parking and retail outlets. Said to be one of the Most Expensive Buildings, a total of USD $2.17 Billion has been shelled for its construction.